Mandola Rosa Special Dining
Create and customise your own dining experience, prepared and served in a location of your choice. From sunset cocktails and beach banquets to a private meal in your villa or special celebration aboard a yacht… the choice is only limited by your imagination.
In-Villa Dining Intimate Refinement
Mandola Rosa features a fine dining experience within the comfort and convenience of your suite or villa. Choose from an extensive menu, day or night, from a light bite to a romantic dinner under the stars.
Private Dining on the Beach
Enjoy a memorable sunset dinner on the beach, served by your own private waiter, including personalised menu planning, a secluded beach location and romantic décor.

Yours to enjoy private moments.
Yours to spell out secrets.
Yours to experience sensual luxury.
NOTE:
Please inform the hotel staff in advance of any allergies or intolerances you may have. Our menu might contain traces of allergenic substances.
Book Online
or Call
+30 26230 64400
---
SPECIAL REQUESTS
Our chefs will be happy to assist you with any special meal requirements:

- International delicacies can be specially imported for you, just let us know in advance

- Healthy diets can be created and special lunch baskets prepared


Please inform us in advance.
---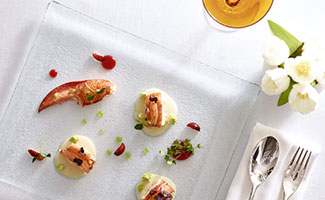 DON'T MISS
SIGNATURE APHRODISIAC MENU
The earthy, sexy ambience of the Greek sunset makes the perfect back-drop to tease your senses… Imagine amorous sparks flying through the air based on the food served. If you believe in magic and historical tales of aphrodisiacs, enchant and captivate that special someone in your life with foods that stir the imagination and fan the flames of desire.
---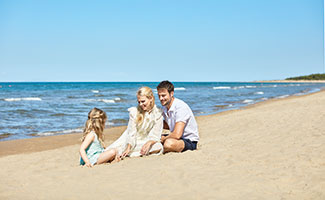 FAMILY DINNER ON THE BEACH
Enjoy the company of your family at a private dinner on the beach, which includes beach-style seating for up to 12, and torches. One of our chefs will prepare the menu of your choice. Flowers and entertainment can be arranged to enhance your evening of fun, relaxation, and merriment.
---
CHILDREN'S MEALS
Designed by the Grecotel chefs & dietician, the children's menus ensure they get all the nutrients they need for an active holiday in tasty tempting dishes. Children's menus are available in a la carte restaurants and from room service.
---