Cap Voyage, Fine Dining around the world
Experience a unique gastronomic journey in one of the most exciting dining venues in Greece blending the freshest local ingredients with cosmopolitan cooking methods.
Cap Voyage is an incomparable gourmet restaurant at a stunning prime seafront. It nestles atop a gentle hill amidst lush vegetation—a setting of outstanding beauty that reflects the elegance of the Mandola Rosa Main House.

Cap Voyage embodies contemporary style, classical sophistication and inimitable refinements. Exquisite seafood, Greek cuisine with a modern twist, and the freshest regional ingredients along with an inspired selection of organic food create a menu that aspires to the culinary creations worthy of world-class awards. Indulge in delectable wines from the finest selections from Greece and the world over.

Open for: Dinner | Cuisine Type: Fine dining around the world | Seating: Indoor & Outdoor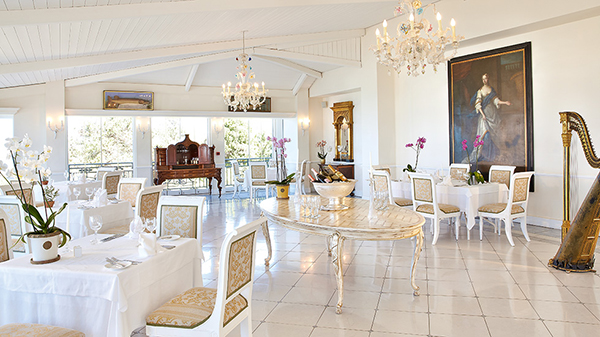 Signature Aphrodisiac Menu
The earthy, sexy ambiance of the Greek sunset makes the perfect back-drop to tease your senses…Imagine amorous sparks flying through the air based on the food served. If you believe in magic and historical tales of aphrodisiacs, enchant and captivate that special someone in your life with foods that stir the imagination and fan the flames of desire.


DRESS CODE
Daytime: Resort Casual. Cover-ups are required for breakfast and lunch. Footwear is required in restaurants & bars at all times.
Evening: Smart Casual. No beachwear or shorts in the evening. Gentlemen – long trousers and shirts with sleeves (short or long) are required in all restaurants & bars.


NOTE: Please inform the hotel staff in advance of any allergies or intolerances you may have. Our menu might contain traces of allergenic substances.
Book Online
or Call
+30 26230 64400
IN LOVE WITH OUR GUESTS
"The service is refined, with great attention to detail and complete respect for privacy. Here, diners can indulge in a regal feast: Mediterranean delicacies and perfectly matched regional wines stimulate the senses and create a festive mood.

We will celebrate at Cap Voyage, an incomparable gourmet restaurant in a location of outstanding beauty."
---
IN-VILLA DINING, INTIMATE REFINEMENT
Choose from an extensive menu, day or night, from a light bite to a romantic dinner under the stars.
---
WHAT YOU WILL LOVE.. DINNER FOR TWO
Though certainly children are welcomed, take advantage of the hotel's great babysitting services so mom and dad can enjoy a leisure dinner at "Cap Voyage" gourmet restaurant.
---
SPECIAL REQUESTS
Our chef will be happy to assist you with any special meal requirements for children, allergies, health reasons and religious purposes.

Just let us know in advance.
---
also check
Orient Express, Asian-inspired a la carte restaurant