Mandola Rosa Facilities & Services
Step into another World

There are getaways and then there are getaways. Leaving all behind
for a deluxe villa on an endless sandy beach in Peloponnese isn't
just vacation. It's everything you dreamed a vacation could be.

FACILITIES

• Prime stretch of fine sandy beach
• 54 exclusive suites & villas with private pools
• Secluded freshwater infinity pool overlooking the pristine beach
• Broad private terraces with panoramic views
• Breakfast Salon with Terraces and non-smoking areas
• Cap Voyage Fine Dining around the world
•
NEW
Orient Express Asian a la carte restaurant
• Sitting Rooms/Terraces
• Free of charge full WiFi coverage in all hotel areas and guest rooms
• Sunset Main Restaurant & Sea Dunes a la carte Restaurant at the neighbouring Olympia Riviera Thalasso.
• Main House Ballroom
•
Library
• Orthodox Greek Chapel
• Serene, spacious reading room & lounge with aristocratic flair
• The Riviera Olympia complex features: Sun Stores Holiday Boutiques, Charisma Jewellery shops, Hairdresser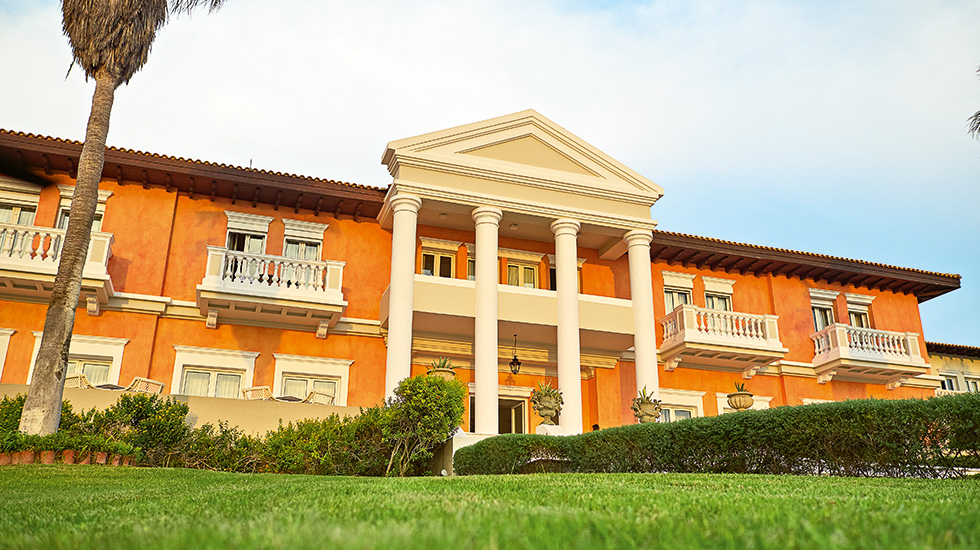 SERVICES
To ensure optimum service, a highly qualified and dedicated team of
Mandola Rosa staff are continually on hand to oversee the needs
for the most discerning tastes.
• Multi-lingual staff
• 24-hour reception
• Room service: 24 hours
• Guest Relations, Villa Managers & Privilege Club services
• Reception/Concierge services include: Messages, Car rental / Excursions, Airline information, Porter
• Express check-in/ check-out service
• Luggage transportation
• Wake-Up Call service
• Laptop or tablet use, pending availability
• Complimentary Satellite TV services
• Special meals upon request
• Early breakfast service, upon request
• Breakfast or lunch box service, upon request
• In-room breakfast service on request
• Extended breakfast service (longer than 3 hours)
• Kettle (water boiler) and tea/ coffee making facilities
• Private dining options
• Private Butler service
• Destination assistance
• Pillow collection
• Dry cleaning/ pressing service
• Towel change by request
• Turn down service during the evening, upon request
• Guest fitness room
• Sports field
• Animation
• Postal service
• Valet parking
• Electric club car service
• Baby Sitting Services upon request with extra charge
• Extra baby cot on request
•
Hotel services guide in at least two languages
• Newspaper/magazine service
• Business and Secretarial services
• Catering and Private function service
• Beach service
• Humidor with cigars upon request
• Money: All major credit cards are accepted, Money exchange at reception, Nearest bank/Auto bank 7km
• Medical Services: 24hr Medical cover, Doctor on call (extra charge)

Selected services may incur an extra charge.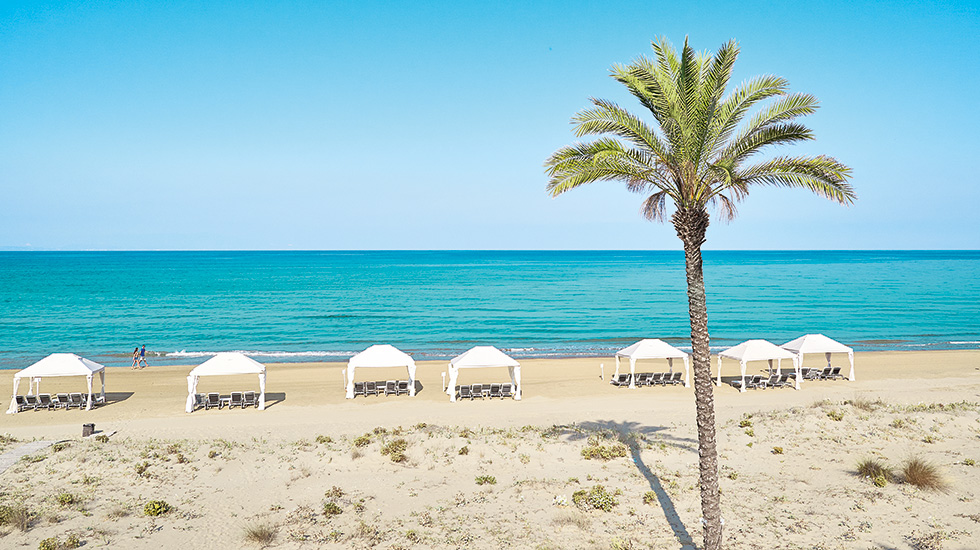 SWIMMING
Mandola Rosa Suites & Villas lies on one of the longest sandy beaches in the Mediterranean. 10 kilometres of golden sand lapped by the crystal-clear waters of the Ionian Sea remaining at your disposal.
Beach
10 km of golden sand lapped by the pristine waters of the Ionian Sea, awarded with the Blue Flag by internationally recognized organizations.
Beach amenities include: changing cabins, showers, sunbeds with mattresses, beach towels and umbrellas. Complimentary mineral water & fruit served to your umbrella once a day.
A private section of beach is accessible to guests residing in the resort's villas, with reserved gazebos and sun beds attended by discrete beach staff.
Olympia Aqua Park
This summer, an amazing brand new 20,000 sq.m. Olympia Aqua Park will be the ultimate experience for the whole family!









Pools
This luxury hotel in Peloponnese makes the most of its beachfront location with a range of swimming choices!
•
1 Freshwater outdoor pool
* Guests may also use the outdoor pools at the Grecotel Olympia Riviera Thalasso hotel

• 1 Seawater indoor pool at the Elixir Thalasso Spa (133m2) (weather depending heated)
•
Children's paddling pools with waterslides
,
lazy river and waterfalls (at Olympia Oasis hotel)
Famous Class Services
Famous Class is simply like travelling "first-class"at a Grecotel hotel!

READ MORE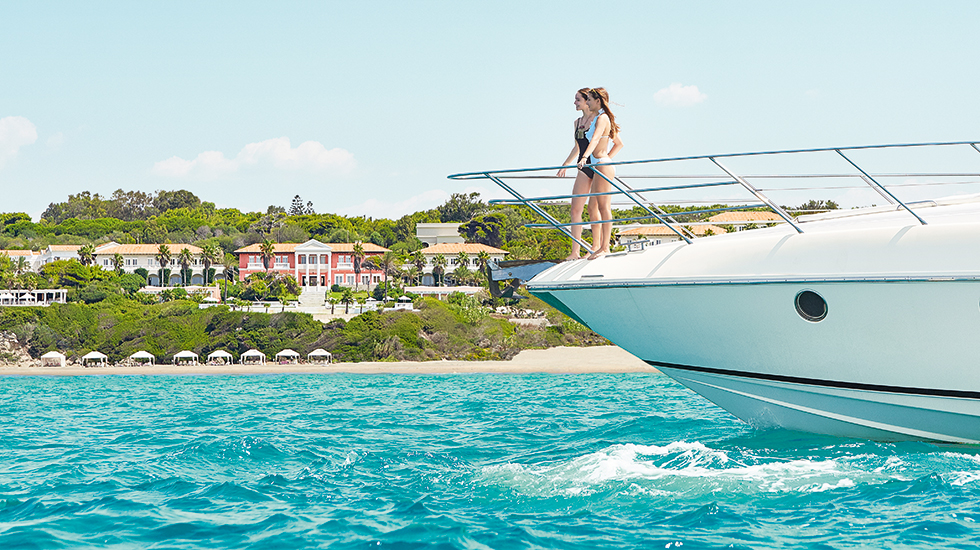 Book Online
or Call
+30 26230 64400
Resort beach bag with towels & beach accessories! Right on a 10km of sandy beach with shallow waters, enjoy snacks, refreshing drinks & fresh fruit juices while you relax under the shade of your private gazebo.
---
MANDOLA ROSA VIP SERVICES
To ensure that you enjoy your stay with us as fully as possible, we invite you to customise your booking to suit your preferences.
READ MORE
---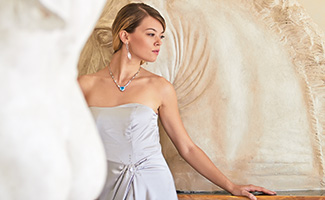 ANCIENT GREECE RE-BORN
Take a step back into the past as you enter the Mandola Rosa. Greek & Roman gods & goddesses greet you and the towering marble columns beckon you to the seafront terraces.
---
OUTDOORS LIFESTYLE
Water sports, horse riding, cycling (nice paths on the wooded hills near the hotel), tennis, soccer, basket ball and volley ball, excellent base for excursions to get an idea.
READ MORE
---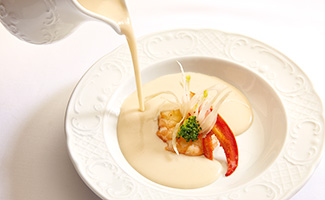 DINNER FOR TWO
Great babysitting services so you can enjoy a leisure dinner at
"Cap Voyage" restaurant.
---
UNIQUE JEWELLERY IN GREECE
- Hand made jewellery exclusively for Grecotel.- Each item is accompanied by an authenticity certificate
- Located at the neighboring Olympia Riviera Thalasso hotel
---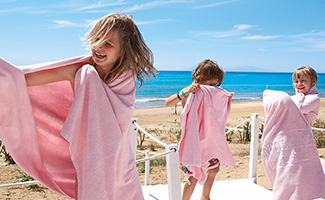 KIDS
♥ MANDOLA ROSA
Thank goodness for the wonderful staff at Mandola Rosa suites & villas that treats your kids like special little guests and makes to feel sooo welcome!

READ MORE
---